Offer
The company
BARTBUT
to special order performs
hand-sewn footwear
on soles of leather, including heels.
footwear for horse riding
model blutcher (derby) - retro with gaiters
footwear from the years 1920-1960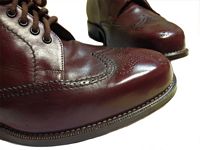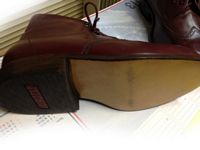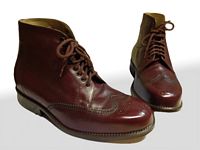 Our offer


Orthopaedic footwear – production and repairing services
Orthotic insoles
Insoles for the diabetic foot
Semi-insoles
Neurological insoles
Our strengths and the guarantee of excellent quality lie in:
tradition and experience
professional approach and constant skill development
contact with technologies all over the world
cooperation with the best medical specialists
cooperation with the leading western orthopaedic footwear companies
using the best materials and components corresponding to the European norms and standards
constant upgrading of our machinery fleet
lowest prices
free counselling and measuring at the customer's house
numerous awards and certificates
Our footwear is compliant with the highest norms and standards concerning quality. We do our utmost to make our shoes not only healthy and comfortable, but also durable. We use solely environmentally-friendly materials of the highest quality. The choice of colours guarantees the combination of functionality and good looks. Winter shoes are mainly in various shades of brown, grey and black. Spring shoes have bright, intense colours, such as red, green or yellow. All the elements of our footwear are produced with the use of well-tested materials, compliant with particular Polish and European norms and standards. Our insoles are entirely foot-friendly and allow the foot to take the appropriate position in the shoe.